The Need
The civil war in Sudan between the Islamic north and the Christian south waged for almost 3 decades.
In 2011, the South gained their independence from the North, and Juba became the capital city of the newly birthed South Sudan.
But the decades of bombings and attacks left their infrastructure destroyed and South Sudanese believers isolated from the rest of the world.
The only way in to the area for so long was on a puddle-hopper airplane, so materials that could be brought in were limited.  All this combined has been a great challenge to the South Sudanese church's spiritual growth.
With no outside accountability, it has been difficult for the church not to bow to the culture around her. 
It's not uncommon to find large segments of the church in Sudan existing for the benefit of the leader or pastor, who in turn promises his followers prosperity and refuge.
However, in the course of using his title as pastor for personal benefit, he often delivers only guilt and pressure.
This has severely maimed the Body of Christ in this area, rendering her almost powerless to declare and demonstrate truth into their culture.
Description
Church Leadership
When Steve Evers and Timothy Keller visited South Sudan in 2009, ITMI partner, Vicky Waraka traveled to Mundri, South Sudan, to meet with Steve. 
Left to Right: Timothy Keller, Lazarus, Vicky, Steve Evers, Justin, Jahim Buli.
Logistics led to her and a couple travel partners being stranded in Mundri, where the ITMI team was sharing the SALT material. With nothing else to do, they stayed for the teaching. 
SALT training in Mundri, South Sudan.
When Steve returned to South Sudan in 2012, he discovered that the SALT material he'd presented two years before had taken such root that Vicky, Lazarus (pictured above) and two others had planted a church, Revival and Fire Ministry, Juba, based on the principles! 
Shared leadership - not one leader with a title. 
No titles.
No head pastor.
Humbly responsive to the Spirit.
This model was so starkly different from the standard African church, that people are drawn to this church by droves. 
They had already funded a church building, which is unheard of for such a young church in a war-torn, impoverished, African country, but quickly grew out of it in 2 months time!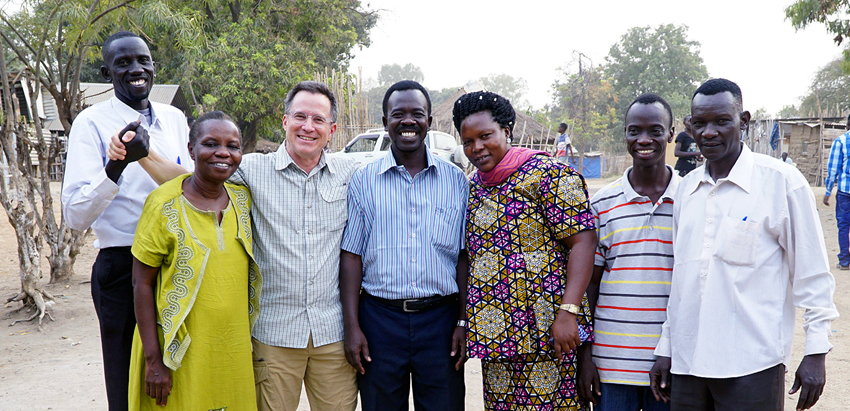 Vicky and Steve Evers with leaders from the Revival and Fire Ministry.(2016)
Vicky's church plant gathering on Easter Sunday in South Sudan.
Vicky prays with and counsels women from the church and the community each week.
The church is located in this Muslim neighborhood.
This dynamic church can't even keep up with the awning space needed! 
During Steve's visit he preached to the congregation under multi-colored awnings, which the church members pain-stalkingly erect each Sunday. 
This church is a refreshing preview of God's Kingdom for the war-torn and weary people of South Sudan! 
History
ITMI has had a long-standing relationship with a group of believers in South Sudan. Timothy Keller has been visiting them for more than a decade. 
On one such visit, Steve met Vicky. She was caring for 11 orphans on no income, but impressed Steve with her contented heart, gracious spirit and trust in God. 
Latest News
In June of 2020, when the entire world was locking down and staying home to avoid spreading COVID-19, thousands of residents of South Sudan and Sudan living near the White Nile river were forced to leave their homes.