One of the most common questions that I have been asked over the years is "Why do bad things happen to good people"? A more appropriate question for believers is "Why does God allow His children to suffer?" Have you ever gone through trials and tribulations? Did you ever cry out and ask the question, "Why?!"  In our humanity we all have a breaking point.
Think of Job and his life. Job 1 tells us that he was "blameless and upright", but he still endured suffering. So why did God allow Job to go through some horrible circumstances? One of the toughest things I have had to do as a Pastor/Chaplain is to bury a baby and help his parents walk through the grief, pain, and loss. Job experienced this as well as losing all of his worldly possessions, being inflicted physically. To make matters worse his wife wasn't exactly the Proverbs 31 woman and he didn't have the wisest of friends. His friends believed that all of Job's calamities were because of sin. Their theology would say that if you are suffering it is because of sin and God is bringing judgment upon you. Is suffering always a result of sin? Was Job's?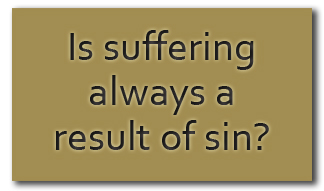 When we look throughout the Old Testament, specifically in the Prophets there is this confusion of why God would allow the wicked to beblessed. Why He allows them to continue in their wicked ways and also prosper in them. Have you ever thought that? Have you ever felt that evil and wickedness is rampant and those involved are receiving things that they should not. In both Israel (ten northern tribes) and Judah (two southern tribes), they had examples of leaders that were taking advantage of the poor and prospering off of them. That is part of the reason that God punished them. Israel was taken into captivity by the Assyrians and Judah was taken into captivity by the Babylonians. Apostasy was also a part of the reason as well, but instead of doing what they were called to do as leaders/shepherds they were doing the exact opposite. Ezekiel 34 lays this out directly. We haven't gotten any closer to the original question though. I believe there are reasons that God does allow us to go through sufferings. At the same time I think there are those that believe wrong theologies. One being the Prosperity Gospel, the theology at its basic level says that all God wants for you is to be blessed/happy. What happens when sufferings come, then what? Has the individual done something wrong like what Job's friends thought? Or is there something that God is doing.
Let's look at Romans 8.
For I consider that the sufferings of this present time are not worth comparing with the glory that is to be revealed to us. For the creation waits with eager longing for the revealing of the sons of God. For the creation was subjected to futility, not willingly, but because of him who subjected it, in hope that the creation itself will be set free from its bondage to corruption and obtain the freedom of the glory of the children of God. For we know that the whole creation has been groaning together in the pains of childbirth until now. And not only the creation, but we ourselves, who have the first-fruits of the Spirit, groan inwardly as we wait eagerly for adoption as sons, the redemption of our bodies. For in this hope we were saved. Now hope that is seen is not hope. For who hopes for what he sees? But if we hope for what we do not see, we wait for it with patience.

Likewise the Spirit helps us in our weakness. For we do not know what to pray for as we ought, but the Spirit himself intercedes for us with groanings too deep for words. And he who searches hearts knows what is the mind of the Spirit, because the Spirit intercedes for the saints according to the will of God. And we know that for those who love God all things work together for good, for those who are called according to his purpose. For those whom he foreknew he also predestined to be conformed to the image of his Son, in order that he might be the firstborn among many brothers. And those whom he predestined he also called, and those whom he called he also justified, and those whom he justified he also glorified.
1. No matter how bad we suffer in this life it is nothing compared to the glory we will receive in the next.
2. It is not the way it is supposed to be, hence the reason it perplexes us.
3. Creation is waiting eagerly to be set free- because of the fall the earth has been cursed (Gen. 3) and it is in anticipation to be restored to what it used to be, perfect.
4. We groan for things to be returned to the way it should be. Our bodies are falling apart and we one day will receive new bodies and "Return to Eden/Paradise". We know that this isn't the way it should be and we long to be glorified.
Even though we are subject to sufferings God did not leave us alone. He gave us the Holy Spirit. The Holy Spirit is often not given the attention or emphasis He should. As the Third Person of the Trinity, He is Co-equal with God the Father and God the Son. The Holy Spirit is there in our weakness and even intercedes on our behalf.
5. The Holy Spirit is there with us in our moments of suffering. We don't endure it on our own.
6. The Holy Spirit intercedes on our behalf- Even when we are so weak to know what to pray for; the Holy Spirit does it for us. This does not mean we should not pray on our own.
7. The Holy Spirit intercedes according to the will of the Father- which should be our desire, even if the will of God is for us to suffer. Are we going to be Job or Job's wife?
8. Even in our sufferings, "all things work together for good." Even if we don't understand what God is trying to accomplish it is for His purpose and His glory.
9. He foreknew and predestined us to be conformed to the image of His Son- We are constantly going through the sanctification process in this life. Every day we should be more and more like Christ and bear His image in our life.
10. We were called, and then justified, and one day will be glorified.
11. Sufferings allow us to bear more and more of Christ's image in our own life.
Christ is the ultimate example on enduring suffering. How much suffering did Christ endure for us so that we can be in a position to be redeemed? Christ let us know at the very beginning that we will endure suffering, just as He did.
In Romans 5:3-5 Paul writes, "Not only that, but we rejoice in our sufferings, knowing that suffering produces endurance, and endurance produces character, and character produces hope, and hope does not put us to shame, because God's love has been poured into our hearts through the Holy Spirit who has been given to us".
We can rejoice in our suffering. "What"? Seems completely contradictory, but let's look at why we should rejoice. Suffering produces something that is essential in this life and one could argue the next. It produces endurance, character, and hope. The only hope that matters is the hope in the promises of Christ. So in the midst of suffering we need to be aware that there is a purpose and a Godly one at that. We may not always remember or consider it during those very difficult times, but it is crucial that we do remember and give God the glory, because His ways are always better than our ways, even if we don't completely understand them.
Blessings,