This article was originally published in the March 2016 edition of ITMI Monthly.
"Catch a flight out of South Sudan as soon as possible." I was looking at a few-day-old communique from the US Government containing that warning for any Americans who might find themselves in South Sudan. There was even an offer to US citizens who "are unable to get a flight out, contact us and we will assist."
I was scheduled to be on a flight to South Sudan that very week.
Our church planting and leadership development pastor and partner in Juba, South Sudan, Jahim Buli was the one who alerted me to the government's notice.
With much prayer and investigation through our own expert channels, we decided that it was not foolish to go serve and encourage our partners who survive in South Sudan year in and year out. I'm so glad that we were able to be in South Sudan last month, to see firsthand God's faithfulness in the lives of the church and in our partners who faithfully minister in challenging situations.
Allow me to remind you of seeds planted back in 2007, in the small mud hut village of Mundri, before South Sudan became separate from Sudan in 2011. ITMI's Board Member, Robert Fulkerson, and I had arranged with ITMI's Vicky Waraka to have a S.A.L.T. Leadership and Discipleship Conference in Mundri for church leaders from all over the south-central region of Sudan.
Due to the heat, the 30-40 attendees gathered under an expansive mango tree. Vicky and her friends Esther, Lazarus and Wycliffe, from Juba were in Mundri for another meeting. They weren't planning to stay for the conference, but in God's perfect providence, they couldn't get transport back to Juba, so they stayed for the conference.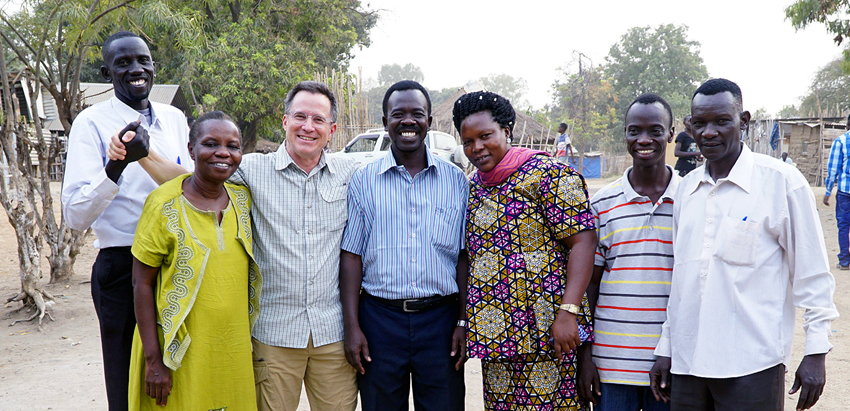 Steve Evers with leaders from the Revival and Fire Prayer Ministry in Juba, South Sudan, including ITMI's Vicky Waraka (left of Steve).
The foursome committed to following God's plan for leadership, as taught in the S.A.L.T. material, and were led to start a home Bible study back in Juba. Now, eight years later, the church (Revival and Fire Prayer Ministry Juba) that grew from their faithfulness is daily meeting the needs of the lost. Large crowds on Sunday are not unusual in many parts of Africa, but to have around 1000 people faithfully attend each Sunday in temperatures that would collapse most Americans - even us from Arizona - is noteworthy.
Yet Sunday is not what impressed me the most about their faithfulness. It was the depth and breadth of ministry I saw them do the other days of the week.
A weekday gospel counseling session with Vicky and Ester. 
There is no paid staff - not even the four who were the founders of this ministry. This is almost unheard of in Africa. Imagine 17 departments, from Women's Ministry, Youth Ministry, Counseling Ministry, Evangelism Ministry, Care for the Home Bound, and others - all directed by volunteers equipped from within the church. Those 17 directors oversee another 70-80 volunteers.
Vicky shared with me that she "couldn't remember when the last time that there was a conflict [in the church]." She believes this is because God is blessing their desire to lead Biblically. The S.A.L.T. material strongly reminds us that we all have equal value to God as His beloved children.
The leadership team at this lighthouse in a Muslim section of Juba is growing and impacting the Kingdom because they have truly committed to seeking "first His Kingdom and His righteousness..." and they are seeing "…all these things... added unto" them.
Muslim neighborhood in Juba where the church is located and ministers.
We must commit to be just as faithful as our brothers and sisters overseas, serving God as He leads them. May we be mindful that we have much to do. There are many more who need to know God's truth and God's desire to redeem them and bless them. May we at ITMI be faithful in helping you…help them…to be….faithful.
In His Service,
Steve Evers has advocated for and served the ITMI partners as ITMI Director since 2001. Approximately once a year, Steve visits with ITMI partners in their countries and brings stories back to encourage supporters. Steve enjoys photography and mechanics, (both hobbies that have greatly benefited ITMI partners!) Prior to becoming ITMI's Director, Steve served on the Board of Directors for 12 years. Steve lives in Arizona with his wife, Darlene.