South Sudan
A Simple, Kindhearted Question Leads to a Divine Opening
ITMI's Vicky Waraka saw her standing in the door of her house. She was 85 years old. Her face was tense, reflecting the hard life she led.
Vicky was visiting homes in Juba, South Sudan, looking for opportunities to listen to people and share Good News. Vicky's gracious smile and greeting prompted a smile from the old woman. 
"Welcome," she said, giving Vicky a chair.
Soft-spoken Vicky is a skilled listener. People just want to share their stories with her. She introduced Vicky to the children who were with her. They were related to her daughter. 
The elderly woman shared how difficult life was for her and her family. The cost of living has skyrocketed in South Sudan, making food difficult to afford. Vicky interacts with a lot of people. Because she is in South Sudan, most of them have painful stories and great needs to share with her. 
Vicky and three of her friends, Lazarus, Esther and Wycliff planted a church in a Muslim slum in Juba, South Sudan. They called it "Revival and Fire Ministries." It spread like rapid-fire, building a building then outgrowing it before they finished it! 
During the week, Vicky visits people's homes and counsels them. Sometimes she counsels in groups at the church's building. 
Vicky (in the yellow) and Esther listen and give Gospel counseling in the church's building.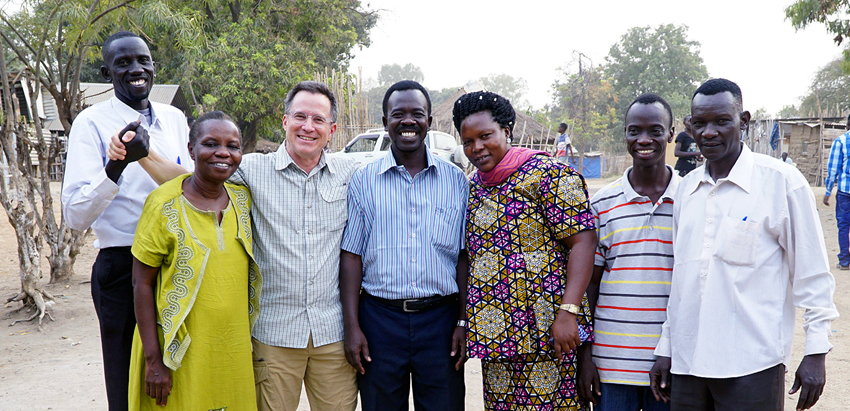 ITMI's Steve Evers with the leaders of Revival and Fire Ministry
Vicky and her church do what they can to provide for the needy around them. But they don't have resources to feed everyone in their war-torn city, so Vicky gives them what she does have. She knows its better than anything else she could offer them, anyway.
She gives them Jesus. 
"Do you know Christ?" Vicky asked. 
"Yes, we go to church," the woman answered. 
"But," Vicky clarified kindly, her gentle eyes opening wider,"Have you given your personal life to Christ?"
"No," she said hesitantly. She was quiet for a second, then she said, "Could I pray with you?"
Of course the answer to that question was yes! That is what Vicky does. After leading the family to Christ, Vicky asked if she could return sometime soon. 
A Door-to-Door Ministry People are Thankful For
"God lead me to knock on her door," Vicky recounts, "As I knocked for the first time no one answered me, but the third time a small girl came."
"Is your mama or an adult around?" Vicky asked.  The girl called her mother. As she came, she greeted and welcomed Vicky. 
After introductions, Vicky asked how she was. What is it about Vicky that when she asks someone she just met how they are, they actually tell her?
They must be able to tell that Vicky really cares, and she's really there to listen to their story.
The family had fled Malakal, the second largest city in South Sudan, during the 2016 incident.  Displaced from their home, they fled to Uganda.
Life in as a refugee in Uganda was difficult.
This is a refugee camp in South Sudan, but you get the picture. Life is hard when you're a refugee.
"Many of us lost loved ones," she remembered,"but its good to be back home where I can feel happy even if there is no food to eat."
Just three days before Vicky arrived, they had returned to South Sudan and were waiting to get back to Malakal, where her husband was. 
"It's difficult to communicate sometimes," she said, "but thank God we are alive."
Vicky led them in praying with her children. They repeated what Vicky said, echoing her prayer.
When Vicky checked back with them later, their prayer had been answered! The government was going to transport them back to Malakal. 
Offering Kindness, a Listening Ear and the Gospel
ITMI's Vicky Waraka is being faithful to reach the people around her with the hope that she clings to amid political uprisings, tribal warfare and the heartache that surrounds her. 
She's doing a lot with the little she has. 
We'd like to see her resources grow, because she's proven it will lead to more needs being met, more gospel conversations and God's name being glorified in South Sudan.