"My life is different," she said, her dark, wide-spaced eyes reflecting her happiness, despite being an orphan in one of the worst places on earth to be orphaned. …
"My life is different," she said, her dark, wide-spaced eyes reflecting her happiness, despite being an orphan in one of the worst places on earth to be orphaned. …
After decades of civil war with what is now Sudan, South Sudan gained independence from the north in 2011. Shortly after gaining independence, the country erupted into political unrest along tribal lines in 2013.
This instability and the general lack of infrastructure has isolated many churches, creating the opportunity for overdependence on one person who enjoys the title of pastor or leader.
It's not uncommon for churches to exist for the benefit of one pastor, who promises his followers prosperity and good fortune that he doesn't have the authority or means to provide.
Revival and Fire Church
When Steve Evers visited South Sudan in 2009, ITMI partner, Vicky Waraka traveled with a group of other believers, including Lazarus, to Mundri, South Sudan, to meet with Steve.
Left to Right: Timothy Keller, Lazarus, Vicky, Steve Evers, Justin, Jahim Buli.
Vicky and the group she traveled with ended up stranded for the night in Mundri, where the ITMI team was teaching the Seven Areas of Life Training (SALT) material, a Biblical discipleship tool developed by Victorious Christian Living.
With nothing else to do, Vicky and her group stayed for the teaching.
When Steve returned to South Sudan in 2012, he discovered that the SALT material he'd presented two years before had taken such root that Vicky, Lazarus and two others had planted a church based on the principles!
Revival and Fire Ministry took what they'd learned from the Biblical teaching and implemented these counter-cultural principles:
Shared leadership - not one leader with a title.
No titles.
No head pastor.
Humbly responsive to the Spirit.
This model was so starkly different from the standard African church, that people were drawn to this church by droves.
They had already funded a church building, which is unheard of for such a young church in a war-torn, impoverished, African country, but quickly grew out of it in 2 months time!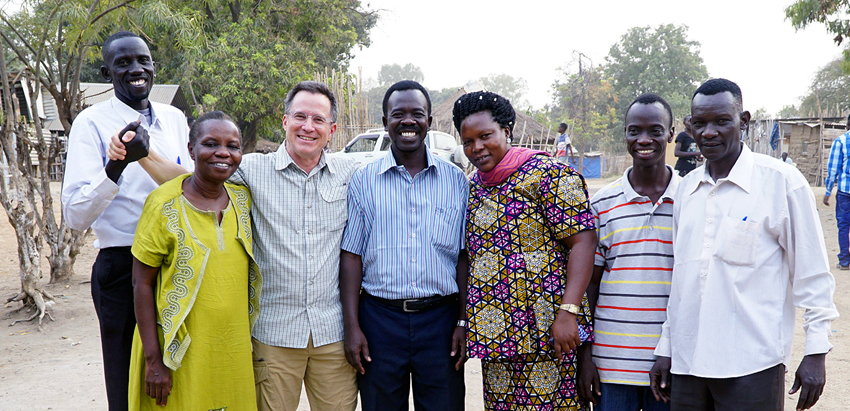 Lazarus, Vicky and Steve Evers with other leaders from the Revival and Fire Ministry.(2016)
Revival and Fire church gathering on Easter Sunday in South Sudan.
Discipleship Training
Since co-teaching SALT with Steve in 2009 and helping Steve demonstrate that any one of the seminar attendees could turn around and teach someone else what they were learning, Lazarus has continued to teach the SALT material in South Sudan.
The Lord has opened up many opportunities for Lazarus to teach people with Biblical truth, including a large gang of marginalized young men from an area particularly hard-hit with tribal violence.
Lazarus co-teaches SALT with Steve in 2009.
Lazarus continues to use the SALT material as a discipleship tool wherever he is invited and has the funds to go. 
Lazarus praying with an attendee after teaching a discipleship seminar. 
What Pastors in South Sudan are Saying about Lazarus' Teaching
Meet Dorca, a South Sudanese Widow
Home and Family
Lazarus and his wife have opened their home and their resources to 17 relatives and people in need.
As part of Lazarus' household, they take turns leading daily devotions, and even going to neighbors' homes to teach them how to have a family devotion time!
Lazarus has had about 17 people living with him for several years now. 
Lazarus and his wife, Mary.
ITMI partner, Vicky Waraka introduced ITMI Director, Steve Evers, to Lazarus in 2009.
As the relationship continued, we observed Lazarus' faithfulness to lead the church in a humble manner, care for widows and orphans and depend on God.
For years, he fed his wife and children on a regular income of $23 a month. But God provided for them to live and even share that with the needy around them.
Lazarus originally refused partnership with ITMI because he didn't want to change anything about his relationship with God. It was important to Lazarus to depend on God.
He changed his mind, however, when he understood that a partnership with ITMI would allow others to be used by God to provide for the needy in South Sudan.
When ITMI's Lazarus Yezinai crossed paths with a gang that roamed the Kugi residential area in Juba, South Sudan, he learned many of their sad stories.Some had voluntarily left their parents' home because of…
When ITMI's Lazarus Yezinai crossed paths with a gang that roamed the Kugi residential area in Juba, South Sudan, he learned many of their sad stories.Some had voluntarily left their parents' home because of…