"I never came out of my house but stayed within four walls of my house and never went to see the outside world…"
"I never came out of my house but stayed within four walls of my house and never went to see the outside world…"
As Director of In Touch Mission International, Steve's leadership enables believers all over the world to partner with each other for the benefit of God's kingdom.
Steve spends his time serving and empowering ITMI partners. Steve travels to visit, encourage and support ITMI nationals annually, then returns to the US to advocate for their ministries and tell their stories. These first-hand visits are an integral part of ITMI's commitment to integrity and accountability.
His first-hand knowledge of ITMI partners and their needs allows people to make meaningful connections that allow for greater impact. His advocacy of ITMI partners has resulted in the blessing of many supporters and partners.
Steve's passion for God and love for people is evident wherever He goes. He not only works to enable ITMI's partners to do the work they were called to do, but to give more and more people the blessing of being involved with what God is doing through prayer and financial support.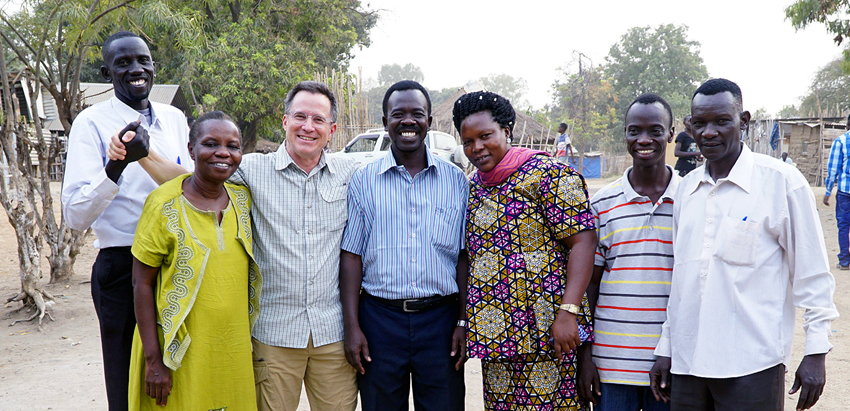 Leaders of a church plant (including ITMI's Vicky Waraka and ITMI's Lazarus Yezinai) in South Sudan whose beginnings were inspired by a SALT training Steve taught two years prior.
ITMI partners deeply appreciate Steve's dedication and hard work on their behalf.
Steve traverses the croc-infested Zambezi river with ITMI Board Member, Jon Dekkers and Steve Lee to visit ITMI's Johan Leach in Zambia.
Steve demonstrates the gospel in Africa by valuing many that are overlooked in their culture.
Steve Evers and Jon Dekkers with a few of Paul and Molly's girls in India.
Steve encourages a newly planted church in South Sudan.
Steve shares the Gospel with a village in Lukulu, Zambia after they received access to clean, safe drinking water. 
Steve encouraging a class at ITMI's Excellence Christian Academy. 
Photo by Timothy Keller