by Summer Kelley and Steve Evers
South Sudan
His response was so unexpected that ITMI's Director, Steve Evers, re-stated the question. 
"Would you like to be an ITMI partner?"
Most people jump at such an offer. They can't accept fast enough. (And many very good things have been accomplished by God for His kingdom and glory as a result.)
But not Lazarus. 
Rewind to 2009 - Who is Lazarus?
Lazarus was one of the three who came with ITMI partner, Vicky Waraka to meet with Steve in Mundri, South Sudan. Providentially, after the meeting, the foursome couldn't get a ride back home. 
So Vicky, Lazarus, Wycliff and Esther stayed for the conference, where Steve and Bob Fulkerson, an ITMI Board member at the time, taught the SALT Material to local church leaders and pastors. 
"For some reason God laid it my heart," Steve said, "to ask Lazarus to co-teach." He'd never seen the material before. It was proof that each of them could turn around and teach someone else the material, too. 
 SALT training under a Mango tree in Mundri, South Sudan. (2009)
Lazarus helps Steve demonstrate how easy the SALT material is to teach! (2009)
The foursome was so inspired by the Biblical picture of how God's people could be led, that they planted a church together. They did away with titles and hierarchies.
The four of them make decisions through prayer, together. In the constantly-striving-to-be-somebody-important culture around them, this was - and still is  - quite remarkable. 
The growth they experienced was nothing short of God-sized. In 6 months, Revival and Fire Prayer Ministry collected enough offering to build a building in a muslim slum area of Juba, the capital of the world's newest country.
Refreshed by this unheard-of leadership style and drawn to the Good News demonstrated in believers' lives, people just kept joining. The number of people consistently coming each Sunday outstripped the 600 seat auditorium before it was even built!
Three years later, (2012) Steve preached to two-thousand people who gathered with Revival and Fire on Easter Sunday! 
Two-thousand people gather on Easter Sunday, just 3 years after Revival and Fire Prayer Ministry was planted in Juba, South Sudan.
Steve preaching on Easter Sunday in Juba.
What Happened to Lazarus?
After returning from Mundri, in addition to planting and leading the growing church alongside the other three, Lazarus went to Bible school. 
Fast-forward to 2015, the foursome still lead Revival and Fire Prayer Ministry as a team. They do counseling on Monday's and Thursdays in the auditorium. The church has 15 departments and 60+ volunteers that do all sorts of ministry throughout the week in the church's building as well as in the surrounding neighborhood.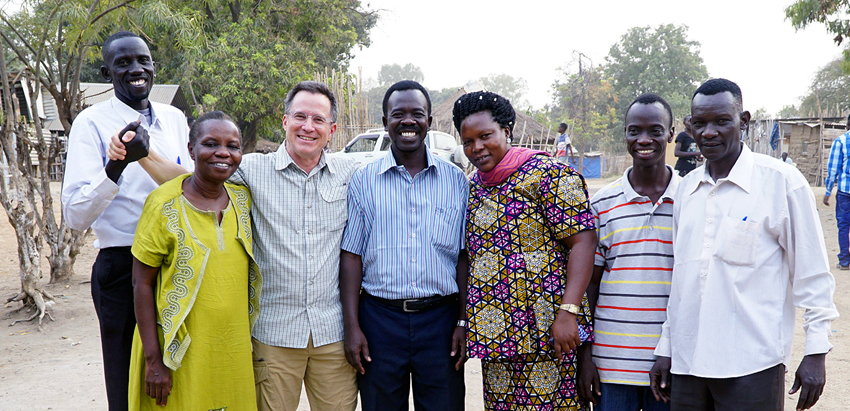 Steve with the leadership of Revival and Fire Prayer Ministry, Juba in 2016.
(Lazarus is on the far left, next to ITMI's Vicky Warka who is in yellow.)
Muslim slum area where Revival and Fire Prayer Ministry building is located.
Lazarus continued to teach the SALT material, too. He was the one who proposed the translation of the SALT material to Arabic. He wants to use the translated material to plant a school for language training. He wants to see Biblical truth reign in more people's lives.   
Seven Areas of Life Training (SALT) is being translated into Arabic!
He works for the government making crutches, canes and fake legs whenever they have work for him. He supports his wife and 12 children  - six are theirs and six are nieces and nephews who needed to be taken in - on about $23USD per month.
That $23 USD provides for them for about 5 days, then Lazarus' earnings are used up. 
Why Lazarus Didn't Jump at Chance to be ITMI's Partner
Lazarus' answer to Steve's proposal?
He looked at Steve and said,
Steve, God blesses me and takes care of my needs so much. I was in a mud hut village with my brother. Bombs were being dropped by the Islamic north. A lady was blown up next to me. We fell in a hole and shrapnel went over our heads. I ran until it was dark. 

Someone tells me to take my shirt off. Why? Chunks of that lady were all over the back of my shirt. I should have been blown up, killed or maimed.

God protects me all my life. Steve if ITMI is going to help me with money, I don't want to be a partner because I don't want there to be the possibility that I would change because I had access to resources, and God might change the way he miraculously cares for me over and over.

We've never gone 2 days without having food. God has provided. For years, God has provided for these children and our family. I don't want to do anything that would change the fact that my God provides for me like that.
Lazarus was protecting his relationship with Jesus. 
Later, Steve reflected, "That just rocks me. That amount of faith and desire and passion to have a relationship with God."
An Answer to Prayer
In that moment, Steve remembered a friend and supporter had given him some discretionary money to give away on his visit in Africa.
Steve felt the Spirit leading him to give Lazarus $300 of that money, taking the pressure off Lazarus to provide for awhile. 
But Lazarus knew it was an answer to a different need. His eyes watered up, "You know what this is?" he said.
"When my brother's daughter came to me and said, 'Daddy can you help me? It will cost $225 USD to continue in school.'  I said, 'I don't have it, but I know our God can provide. Start praying about it. If God wants you to go to school he will provide.' She said, 'ok.' This money is that girl's answer to prayer."
Steve's conclusion?
Lazarus doesn't want the pressure of providing for his family off, because He wants to need God and see God work.
What do I  do with that?
I almost don't know what to do with such a story. 
Lazarus' response is almost so foreign to our Western mindset of self-reliance and independence that, for me, it's hard even to wrap my mind around this type of reliance on something outside ourselves - even God.
In all honesty, my default is often avoiding the need to depend on God. But He just keeps pushing me into places where I'm forced to.
Because its good for me. It's good for us, as Lazarus clearly knows and understands.
Oh that we would relish our need for Him, as Lazarus does, and may He be glorified in it!
Steve Evers has advocated for and served the ITMI partners as ITMI Director since 2001. Approximately once a year, Steve visits with ITMI partners in their countries and brings stories back to encourage supporters. Steve enjoys photography and mechanics, (both hobbies that have greatly benefited ITMI partners!) Prior to becoming ITMI's Director, Steve served on the Board of Directors for 4 years. Steve lives in Arizona with his wife, Darlene.